Nutra Organics
Nutra Organics - Collagen Beauty™ Lemon Lime 300g
IntroducingCOLLAGEN BEAUTY™
SKIN  I HAIR  I  NAILS I  GUT
The most lovedcollagen on the market, Collagen Beauty, now comes in three delicious flavours– Lemon Lime, Waterberry and Wildflower. These natural, fruity and refreshing flavors are a convenient way toconsume Collagen Beauty straight away and contain Verisol® Bioactive Peptides,Vitamin C and Zinc to reduce skin wrinkles, smooth fine lines and supporthealthy hair and nails.
Glow from theinside out with Collagen Beauty™ with Verisol®, a natural formulation to reduceskin wrinkles and smooth fine lines, increase skin hydration and elasticity,and support healthy hair & nails~.
Containsclinically proven Verisol®  BioactiveCollagen Peptides to reduce skin wrinkles, increase skin elasticity &hydration to decrease the signs of aging.
Find out whyVerisol®  is more effective for skin,hair and nails over any other form of collagen :
www.gelita.com/en/products/collagen-peptides/verisol
GLUTEN FREE /DAIRY FREE / SOY FREE / EGG FREE / ARTIFICIAL COLOURS FREE/ ARTIFICAL FLAVOURSFREE / GMO FREE / KETO FRIENDLY / PALEO / PRESERVATIVE FREE / MADE IN AUSTRALIA / AUSTRALIAN OWNED
Nourish your skin, hairand nails from within with Collagen Beauty™, a naturopathically formulatedblend to help you glow from the inside out with VERISOL® BioactiveCollagen Peptides, Vitamin C and Zinc~. Our Lemon Lime flavour is a deliciousway to drink Collagen Beauty™ straight on water and is a sweet and sourcitrus infusion delivering the classic lemon lime taste.
BioactiveCollagen Peptides from types I & III collagen to reduce skin wrinkles, increaseskin hydration and elasticity, and support healthy hair & nails~.
Our skin ismade up of over 75 % collagen, which begins to degenerate in our mid 20s, whenwe begin to show the signs of aging skin, and is accelerated by other lifestyleand environmental factors.
CollagenBeauty™ is a natural formulation with VERISOL® Bioactive Collagen Peptides toimprove structural integrity of skin and decrease skin aging factors after 8weeks of use, improving skin quality of the entire body and smoothing skinwrinkles from within. Collagen Beauty™ with VERISOL®, as part of a balanceddiet, is clinically proven to:
▷ Reduceskin wrinkles and smooth fine lines
▷ Increaseskin hydration and improve moisture levels
▷ Increaseskin elasticity
▷ Contributeto healthy gut and skin by supporting structure and function of connectivetissue with Vitamin C
▷ Contributeto collagen formation & protection from free radical damage with Vitamin C
▷ PromotesGut Health by supporting structure of the gut mucosal lining with beneficialamino acids, Glycine, Proline, Lysine and Glutamine from Collagen,
▷ Contributeto maintaining skin structure, support wound healing, and support healthy hair& nails with Zinc
▷ Supporttissue building & repair with a good source of protein
▷ Pluscontains the naturopathic herb Horsetail, which is traditionally said to makehair strong like a horse's tail.
CollagenBeauty™ is pregnancy, breastfeeding and child friendly (suitable for 12 months& up).
~when consumedin conjunction with a healthy, varied diet.
Made in Australia
『 FAQS 』
▶ What is the differencebetween original Collagen Beauty™ and the Collagen Beauty™ flavours?
The main difference isthat the original Collagen Beauty™ is unflavoured (making it very versatile andeasy to disguise in smoothies, juices, food ect) and the Collagen Beauty™flavours contains fruit powders and natural plant based flavours, making itsuper convenient, yummy and perfect to add straight into water. They allcontain the same amount of the Bioactive Collagen Peptides Verisol®, and thesame amount of Camu Camu for vitamin C, Guava for zinc, and Horsetail Herb.
▶ Which product should Itake - original Collagen Beauty™ or flavoured Collagen Beauty™?
This really just comesdown to what is most convenient for you. If you like to add your CollagenBeauty™ to other flavoured things like smoothies, soups, juices and porridgethen stick with original Collagen Beauty™. If you would prefer to simply addyour Collagen Beauty™ to water to enjoy a delicious refreshing drink then gofor a flavoured Collagen Beauty™. 
Something that might workfor you is to have the original Collagen Beauty™ at home for weekends or daysthat you have a bit more time to make yourself a smoothie, and have a tub ofone of the flavours on your desk at work to add to your water on busy workingdays. Just think about your own routine, what you think would work best for youand what you would enjoy the most!
▶ What gives the Collagen Beauty™ flavourstheir colour and flavour?
Collagen Beauty™ flavoursis created using Premium Refractance Dried Fruits.  The essential vitamins and nutrients aretherefore retained.  While the intake ofcollagen peptides is guaranteed, you are able to obtain the vitamins andantioxidants from fruits.  We have alsoused Australian made plant based natural flavours to achieve a delicious taste
▶ What does "naturalflavour" mean?
Natural flavour means thatthe flavour has been extracted from a natural source (plant or animal origin)using physical, traditional food-preparation processes (e.g pressing, drying,fermentation). Synthetic flavours are made by chemical synthesis. At NutraOrganics, we will only use natural flavours derived from plant based sources,using natural processes, and our natural flavours are made here in Australia.
▶ Are the Collagen Beauty™ flavourssafe for consumption in pregnancy, breastfeeding and kids?
Yes, Collagen Beauty™(original and the flavours) are safe for consumption during pregnancy andbreastfeeding, and safe for kids 12 months and up.
▶ What is the differencebetween our collagen peptide products and plain hydrolysed collagen?
Collagen Peptides(Verisol® in Collagen Beauty, Bodybalance® in Collagen Build and Fortibone® inCollagen Body) are stimulatory proteins, this means that these proteins areactually active and stimulate the production of collagen in specific areas ie.hair skin and nails with Verisol®. Plain hydrolysed collagen does not actuallycontain any proteins that stimulate collagen production. The collagen in theseproducts is just a source of amino acids for your body to use as it wishes. Ourproducts contain the same amino acids plus the added benefit of the stimulatingpeptides for targeted benefits.
▶ Can I mix more collageninto my flavoured Collagen Beauty™?
The simple answer is yes.There is no issue of safety in adding more original Collagen Beauty™ to yourflavoured Collagen Beauty™. However, here at Nutra Organics we are passionateabout a varied diet being the healthiest one. Due to the nature of collagenbeing refined protein, we do not recommend consuming more than one serve daily.It is important to fulfil your daily protein needs from a variety of wholefoodsources.
▶ What 'types' of collagenare in Collagen Beauty™?
Collagen Beauty™, CollagenBody and Collagen Build are standardised to contain type I and type IIIcollagen. These two types of collagen are the most abundant types present inconnective tissue within the human body such as in hair, skin, nails, bones,joints, muscle and ligaments. 
▶ Wheredoes our collagen come from? Are the cows fed organic grass or grains?
Ifthere's one thing we are passionate about here at Nutra Organics, aside fromfood of course, its animals and their welfare. Therefore we have ensured thatthe bovine that our collagen comes from are treated under the highest animalwelfare scheme possible. We do not guarantee that our bovine are fed organicgrass all year around as some of them are located in Germany and due to thefact it snows there for a large portion of the year, it is impossible to ensurethat they are eating grass fed 100% as their diets may need to occasionally besupplemented with wholesome non-gmo grains. However they are grass fed majorityof the year. 
▶ How iscollagen different to gelatin?
Collagenand Gelatin are essentially the same thing (but it can be a bit confusing).Collagen (in its natural form) is made up of long chains of amino acids whichform solid structures. Gelatin, is made from broken down collagen, so it hasshorter chains of amino acids, however the chains are still long enough to havethe gelling effect when added to liquid. Our Collagen products are made up ofhydrolyzed collagen, which is broken down even further into tiny chains ofamino acids that are so small, they are water soluble (so don't have thegelling effect of gelatin).  All have the exact same amino acid profile,it's just a matter of chain length!
TheTrademarked collagen peptides (Verisol® in Collagen Beauty™, Fortibone® inCollagen Body and Bodybalance® in Collagen Build) are even more unique, astheir amino acid chains have been broken down in a very specific way to mimicthe way our own collagen would be broken down in our bodies. This is how theycan target a specific function in the body (like hair, skin and nails inCollagen Beauty™, bone in Collagen Body and muscles in Collagen Build).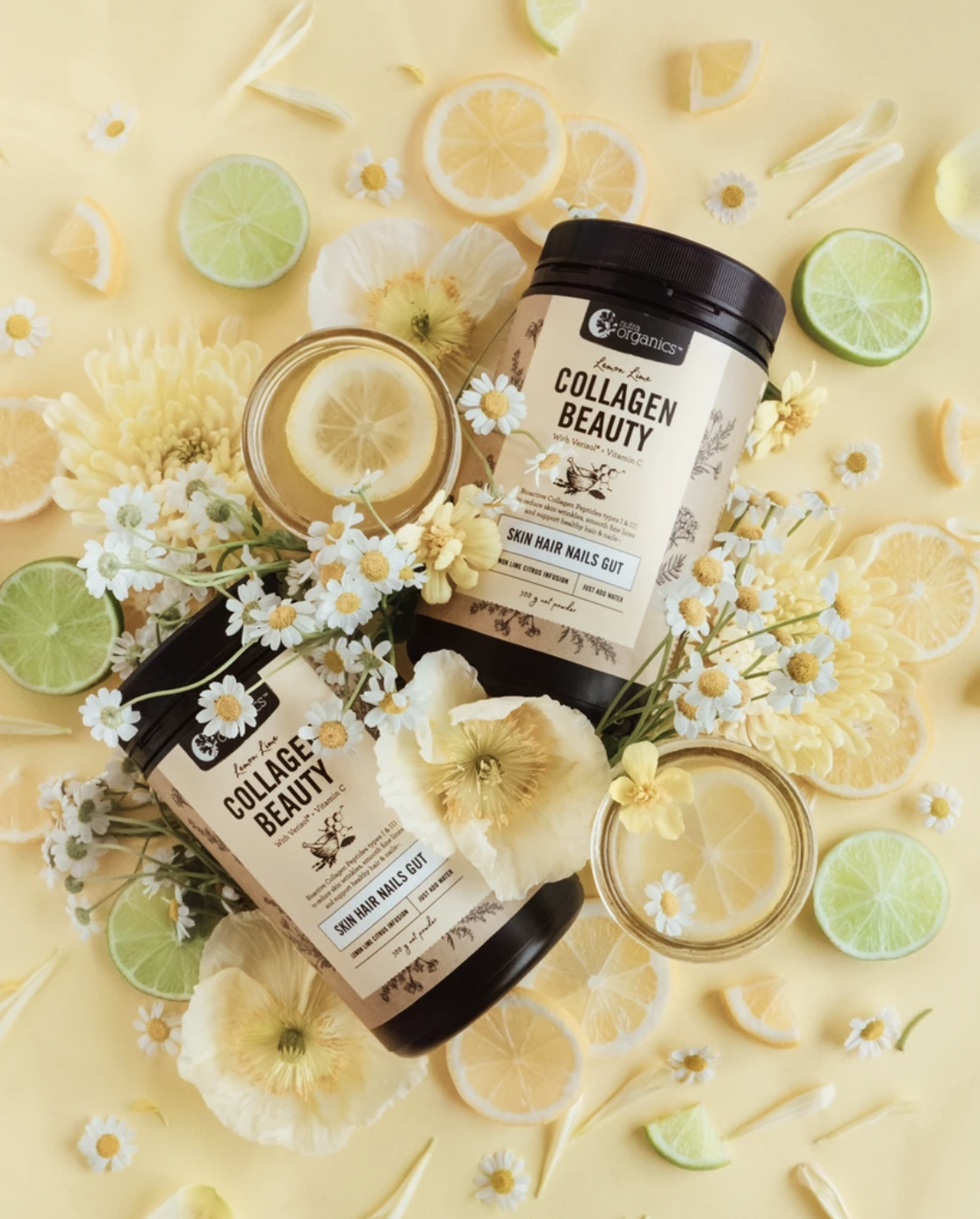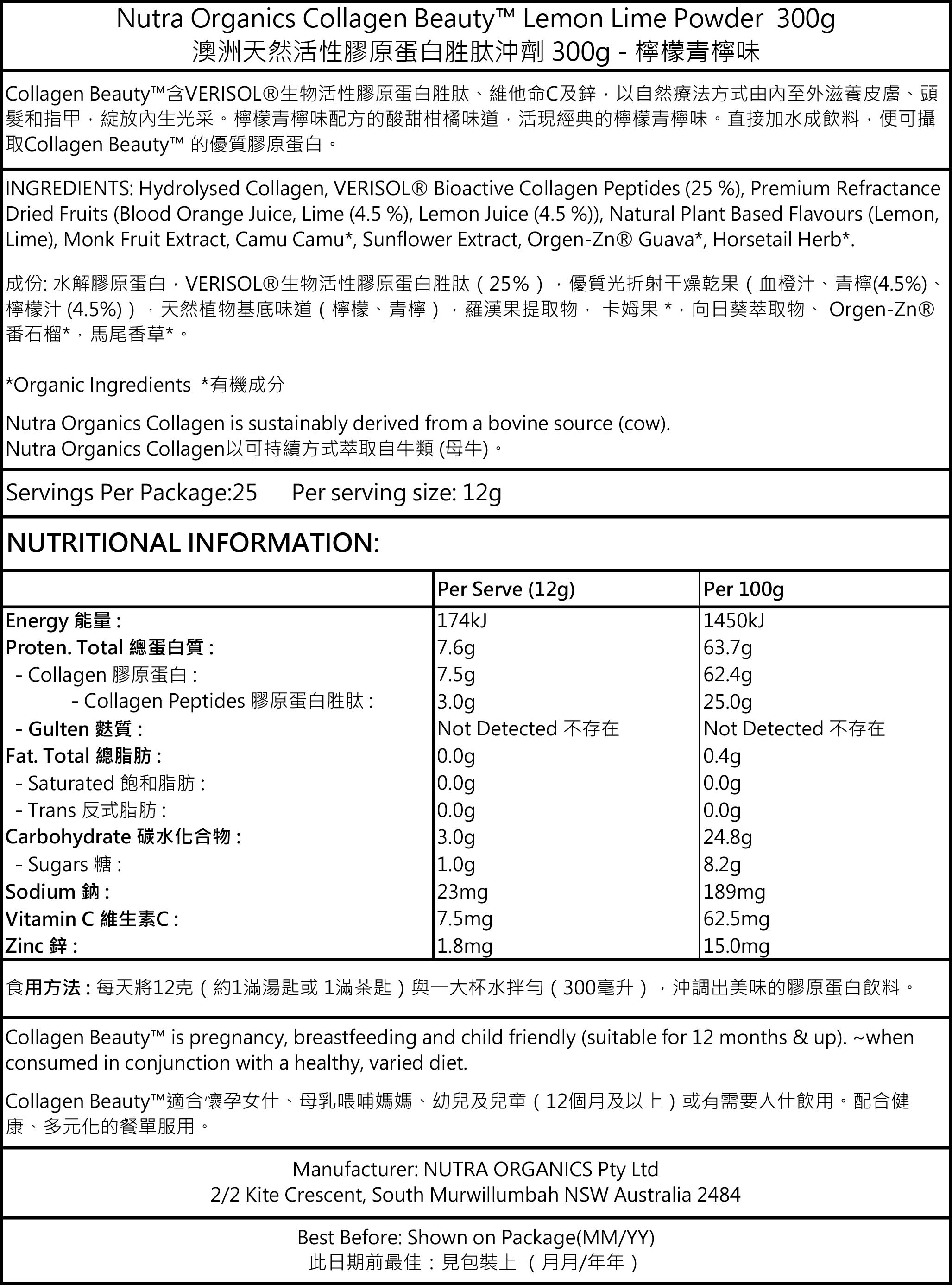 How To Use
Mix 12 g (1 metric tbsp or 2 dessert spoons) daily into as much water as you like (we like to use at least 300ml) for a delicious collagen drink.
Ingredients
Hydrolysed Collagen, VERISOL® Bioactive Collagen Peptides (25 %), Premium Refractance Dried Fruits (Blood Orange Juice, Lime (4.5 %), Lemon Juice (4.5 %)), Natural Plant Based Flavours (Lemon, Lime), Monk Fruit Extract, Camu Camu*, Sunflower Extract, Orgen-Zn® Guava*, Horsetail Herb*. *Organic Ingredients 
Nutra Organics Collagen is sustainably derived from a bovine source (cow).